Upcoming Events

February 9, 2017

Homeowner Education Workshop Session 1

Time: 5:00pm - 8:00pm

Location: Hoover Library

REGISTER NOW


---



March 16, 2017



Business Parnter Essentials Course

Time: 8:00 am - 11:00 am

Location: The Club, Birmingham

REGISTER NOW


---

March 16, 2017

Chapter Luncheon

"Who wants to be a Fully Protected Board Member, the Claim Game"

Time: 11:30am - 1:00pm

Location: The Club, Birmingham

REGISTER NOW


Click here to view more upcoming events in 2017!


Thank you to our
2017 CHAPTER SPONSORS

Platinum Sponsors:




Photos from our
January Luncheon

Our 2017 Kick-Off Luncheon on January 26 at The Club with Jim Corbin, CPA as our guest speaker was a great success!




View more pictures of this and other events.
2017 CAI AL Chapter
Board of Directors

President
Andy Turner, AMS, PCAM
Spaces Management

President Elect
Fields Greer
The Green Team

Secretary
Mildred Lanier
Hayesbury Townhomes HOA

Treasurer
Jamie Brasher Phillips
J.H. Berry & Gilbert

At-Large Member
Lee Mason, CMCA, AMS, PCAM
Community Association Management

Executive Director
Julia Boehm-McKay


Newsletter | January 2017
Message from the President
Dear Members of the CAI Alabama Chapter!
Welcome to the new year! I hope you had a joyous Christmas season with family, friends, and associates. The Board of Directors worked diligently along with our talented CED, Julia Boehm-McKay to develop our 2017 Chapter Goals and Schedule of Events. Our theme for 2017 is Engage, Energize, and Educate. This theme represents the three key areas where we want to focus our efforts this year.
Engage Stakeholders: We want to grow the chapter by increasing the total membership by 30 members. We plan to do this by providing Manager Members tools to help recruit their Association Board Members to join CAI-Alabama, hosting a Capital Day through the LAC Committee, and utilizing media outlets to better inform the public about CAI-Alabama.
Energize Members: We want to build a Ladder of Leaders to serve in Committee positions and on the Board of Directors by clarifying Committee descriptions and objectives, filling all Committee positions, and establishing a five-year strategic plan setting a clear vision for the Chapter.
Educate Stakeholders: We want to develop a CE Accredited course for Real Estate Agents to provide them with the opportunity to obtain CE hours while learning about community associations and selling in community associations; host Board Leadership Development Workshops, and two Manager courses.
To be successful, it will take all of our members working together toward these goals. I hope one of these areas excites you, and that you will contact Julia today to get involved. We have openings on the Education, Membership, Sponsorship, Program, and Communications Committees where you can get involved right away. This is a pivotal year for our Chapter as we seek to establish the five-year strategic plan, and you have the opportunity to be a key part of setting the future direction by getting involved with a committee.
I look forward to a great 2017 as we work together to engage, energize and educate!
Sincerely,
Andy Turner

2017 CAI-AL Chapter President
CEO of Spaces Management


Interested in taking the M-100 in Birmingham this year?

We are working on bringing the M-100 The Essentials of Community Association Management Course to Birmingham this year!

Let us know if you would be interested in attending the M-100 in Birmingham! We need to have 10 participants in order to get this course scheduled.

If you are interested, please send an email to julia@cai-al.com!
Live Course for Business Partners in Birmingham
The CAI Alabama Chapter is excited to announce that we are one of the few chapters in the country to be offering the CAI Business Partner Essentials online course in person this year on Thursday, March 16 at The Club in Birmingham!
This class will give our Business Partner members practical information and advice on working with community associations. Individuals who complete the class and pass a voluntary exam online, will earn the CAI Educated Business Partner Distinction. By successfully completing this course and receiving this distinction, business partners will be able to demonstrate insight regarding community association living while working with boards and managers.
We hope many of our business partner members will take advantage of this great learning experience. The course cost is $50 for members.
Please register by Tuesday, February 28, 2017 by clicking here.
Questions? Please contact Julia Boehm-McKay at julia@cai-al.com or at (205) 547-0733.
Homeowner Education Workshop Session #1: February 9th!
Don't miss the upcoming first session of our Homeowner Education Workshop series! It will take place on Thursday, February 9th from 5:00pm until 8:00pm at the Hoover Library!
In this first session, the following topics will be covered:
> Governing Documents and Roles & Responsibilities
> Association Rules and Conflict Resolution
Advanced registration is required. Please register online by clicking here to reserve your spot today! There is only a limited number of spots available. Registration closes on Tuesday, February 7, 2017 at 6pm.
Member News
Birmingham's Associa McKay Management, a long-time supporter and member of the CAI Alabama Chapter, promoted two of their long-time staff members:
Kathryn Davenport, CMCA, AMS who has more than five years of experience in community management, was promoted to the company's Operations and Training Manager. Kathryn will assist the McKay team in relationship development, adherence to policies, team building, and increasing both internal and external efficiencies
Morgan Place, CMCA, AMS who previously served as the firm's director of marketing and business development and who has been with the company for over 11 years, was promoted to Vice President. Morgan will be advising, supporting, and leading teams of community managers and directors based out of the Birmingham office.

Kathryn Davenport Morgan Place
CMCA, AMS CMCA, AMS
Congratulations, Kathryn and Morgan! We are proud that you are members of the CAI Alabama Chapter!
Beyond The Board Meeting
By: Andrew S. Fortin | Associa Senior Vice President, External Affairs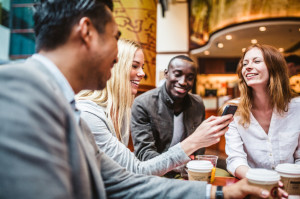 For most, the work-life balancing act leaves little time to build community. Top that off with a 'reality-based' pop culture that is obsessed with outrageous behavior (Real Housewives, etc.) and you get an environment that actually makes building community more of a challenge. That said, community associations, with common elements and amenities, have a built in infrastructure to help promote socializing beyond the board meeting.
With the advent of social media sites like Twitter and Facebook, we now live in a time where personal interaction is no longer necessary to stay connected. This makes it harder to build the personal connections needed to effectively govern a community when everyone is hidden behind laptops or smart phone screens.
Personal interaction is critical to a well-run community. When neighbors get to know each other, they are less likely to project their community frustrations onto neighbors or board members. So, a more connected community will have a better understanding of governance decisions and the personalities engaged in community leadership.
The best way to bring folks together in your community is to set a schedule of periodic and enjoyable social events for residents. Residents can use social media to spread the word which cuts down on the time and expense of marketing materials. It even allows for the collection of RSVPs. With such tools it is easier than ever to set up a social event, while reaching people on the platforms they use the most.
The best way to work toward engaging residents is to consider establishing a neighborhood social committee. Such a committee can be charged with identifying and setting up periodic social events for the community. Such events do not have to be a major production, just an opportunity to share some time with neighbors. Some great examples are Friday BYOB or wine get-togethers hosted by a neighbor. In this case, folks bring a lawn chair and a bottle of wine to celebrate the end of the week. Grilling cook outs, dog parades and other creative ideas also help encourage residents to get out into the community.
When neighbors get to know each other, it has a tremendous impact on governance. Understanding each people's various perspectives, needs and challenges can serve to make the board more empathic in its decision making process. From a homeowner standpoint, it personalizes the association leadership, helping to remove uncertainty from decisions to enforce rules in the community. In the end, familiarity is the best tool to ensure civil community engagement and familiarity comes with social engagement.